Overview
Riverdale Landscape Construction specializes in custom Hardscapes and Outdoor Living. Our team has been building beautiful landscapes in the mid-Willamette valley for over 25 years, and we love what we do.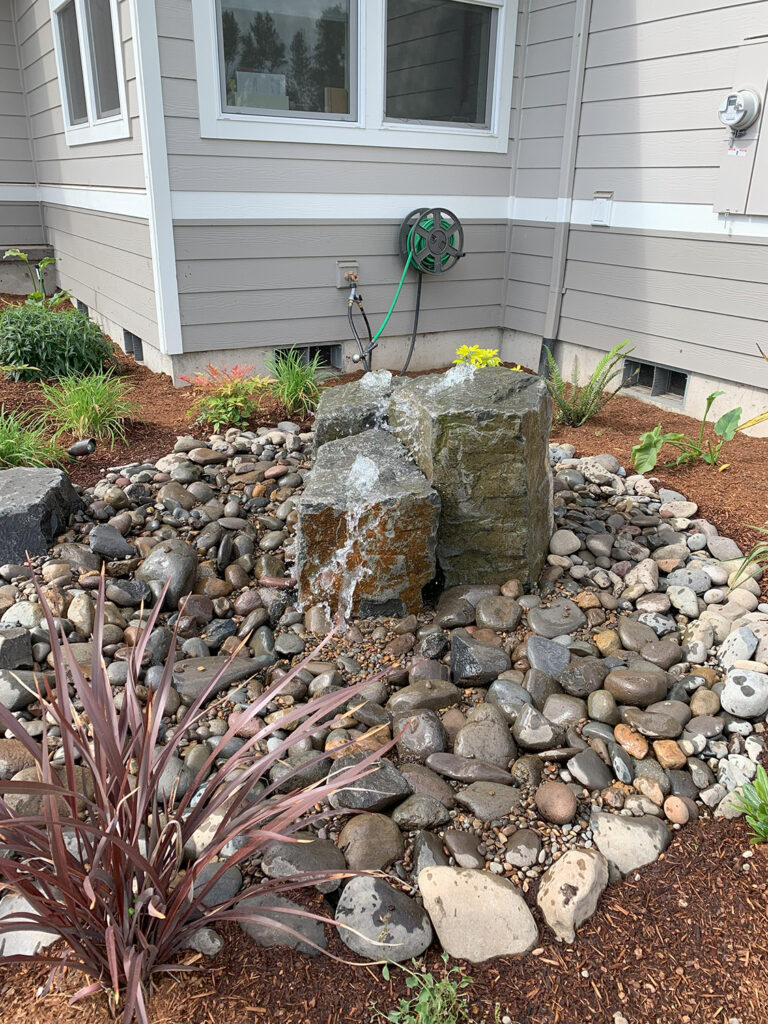 Our Services
We specialize in Hardscape installation and Outdoor Living Areas, but also provide all phases of landscape construction.
Transform your outdoor space with unique water features. We specialize in designing and installing a variety of water elements – from tranquil ponds and bubbling fountains to cascading waterfalls. Let us help you achieve the perfect blend of aesthetics and soothing sounds, making your outdoor living space the ultimate retreat for relaxation and rejuvenation.
Oregon provides diverse seasons for us to enjoy, and our summers are amazing. It's not too hot during the day and cools down at night for a pleasant experience. Your outdoor living area extends your home into the great outdoors, and can include things like outdoor kitchens, fire pits, ponds and water features, arbors, pergolas, and more.
Paver Driveways, Patios, and Walkways
Pavers are a beautiful way to spruce up a driveway, patio, or walkway. Paired with the right plants and flowers, they give you a path or gathering area that you will love. Pavers are available in many different colors and styles to create just the right look for your home.
Add a touch of elegance to your property with our flagstone patios and walkways. Whether you're seeking a rustic pathway meandering through your garden or a grand patio for entertaining, we deliver designs that not only enhance your space but also stand the test of time.
Block retaining walls are often needed for function, but they can also be beautiful additional to your landscape. There are many different styles and colors to choose from to compliment your landscape construction.
Boulder walls allow you to integrate natural beauty with purposeful design. They can be both functional and aesthetically pleasing. We have some amazing looking boulders available in the Pacific NW to blend nature into your landscape.
Hardscapes add a finishing touch and functional purpose to your landscaping. They can create a unique atmosphere and ambiance as well as prevent soil erosion and water runoff. Incorporate structures such as fountains, gazebos and benches to set an inviting scene at your home outdoors. From paths to patios, we've got you covered.
Illuminate the beauty of your outdoor living space with our outdoor lighting solutions. From pathway lights that guide your steps to accent lights highlighting your home's best features, our team ensures your landscape shines its brightest, even after the sun sets.
Crafting the perfect outdoor living space begins with a vision. Through a blend of creativity and expertise, we transform your ideas into cohesive, sustainable, and breathtaking landscape designs. Whether you dream of a relaxing garden retreat or a lively entertainment space, we lay the groundwork for an outdoor transformation that reflects your style and aspirations.
Natural elements often stand as the centerpiece of a memorable landscape. Our dedication shines through as we hand-select the finest plants, trees, and grasses tailored for your outdoor living space. Trust us to ensure your green spaces remain beautiful and thrive throughout the changing seasons in the PNW.
Give us a call today for a free consultation. We look forward to talking soon.